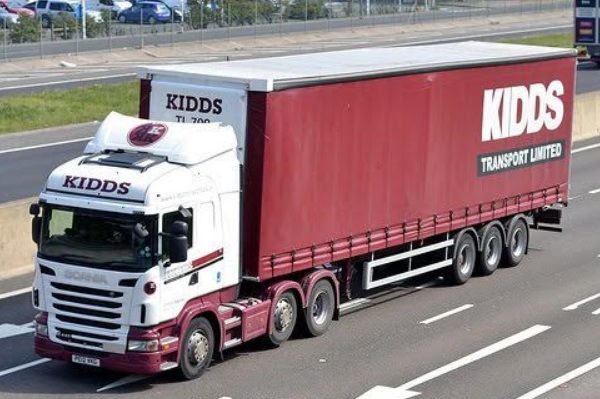 Transport company steps up growth plans with £ 600,000 invoice finance package
X
Sign up for free to receive the latest news straight to your inbox
Register
Time Finance has supported Lancaster-based Kidds Transport with £ 600,000 in funding implementing its ambitious growth plans.
The family business was incorporated over 65 years ago from its base in Lancashire, where it first offered its services to local farmers wishing to transport livestock and bales of hay.
Over time, the business grew and began to work with a larger and more diverse customer base, including food manufacturers and pharmaceutical companies.
With a large fleet of vehicles and a highly skilled workforce behind the wheel, Kidds Transport now averages 42,000 miles per week and delivers 1,400 pallets per day.
At the height of the pandemic, Kidds Transport found itself busier than ever. To meet the growing demand for delivery services from its growing customer base, the company turned to funder Time Finance for help.
Invoice finance was the solution, providing additional funding of £ 400,000 to meet daily cash flow needs and an additional overpayment of £ 200,000 XTRA Time to provide additional growth room and to fuel necessary investments, such as as new staff and fleet expansion.
Simon Park, Director of Kidds Transport, said: "We are delighted to be working with Time Finance. The financial support we have received has been fantastic. Not only did this provide an immediate injection of cash, but it also allowed us to focus our efforts on expanding our customer base and bringing more top talent into our business, thereby accelerating our growth.
"With the support of a funder like Time Finance behind us, it is an exciting time for our team and we look forward to the future and the direction we take for the business. "
Invoice financing frees up funds otherwise tied up in unpaid invoices, meaning businesses are no longer held back by a lack of cash flow. With facilities ranging from £ 10,000 to £ 2.5million, invoice financing can help businesses of all sizes.
Rob Walters, Director of Business Development at Time Finance, said: "It was essential to create a facility flexible enough to grow alongside the business and provide the necessary leeway for the investment.
"Kidds Transport is a brilliant company and one that we are delighted to work with. We look forward to continuing to support them in the years to come and help them bring their plans to fruition. "